The Legacy
The Legacy Round Fire Table blends ancient architectural pottery design with modern beauty. Simple, yet elegant and refined. Married to the vessel is the best burner available on the market today. Be assured, this complete fire feature is not simply for aesthetics; it is a fully functional, heat producing epicenter to your space. Keep your family and friends warm and cozy with tall, robust flames. The included key valve allows you to reduce the flame size to the perfect level.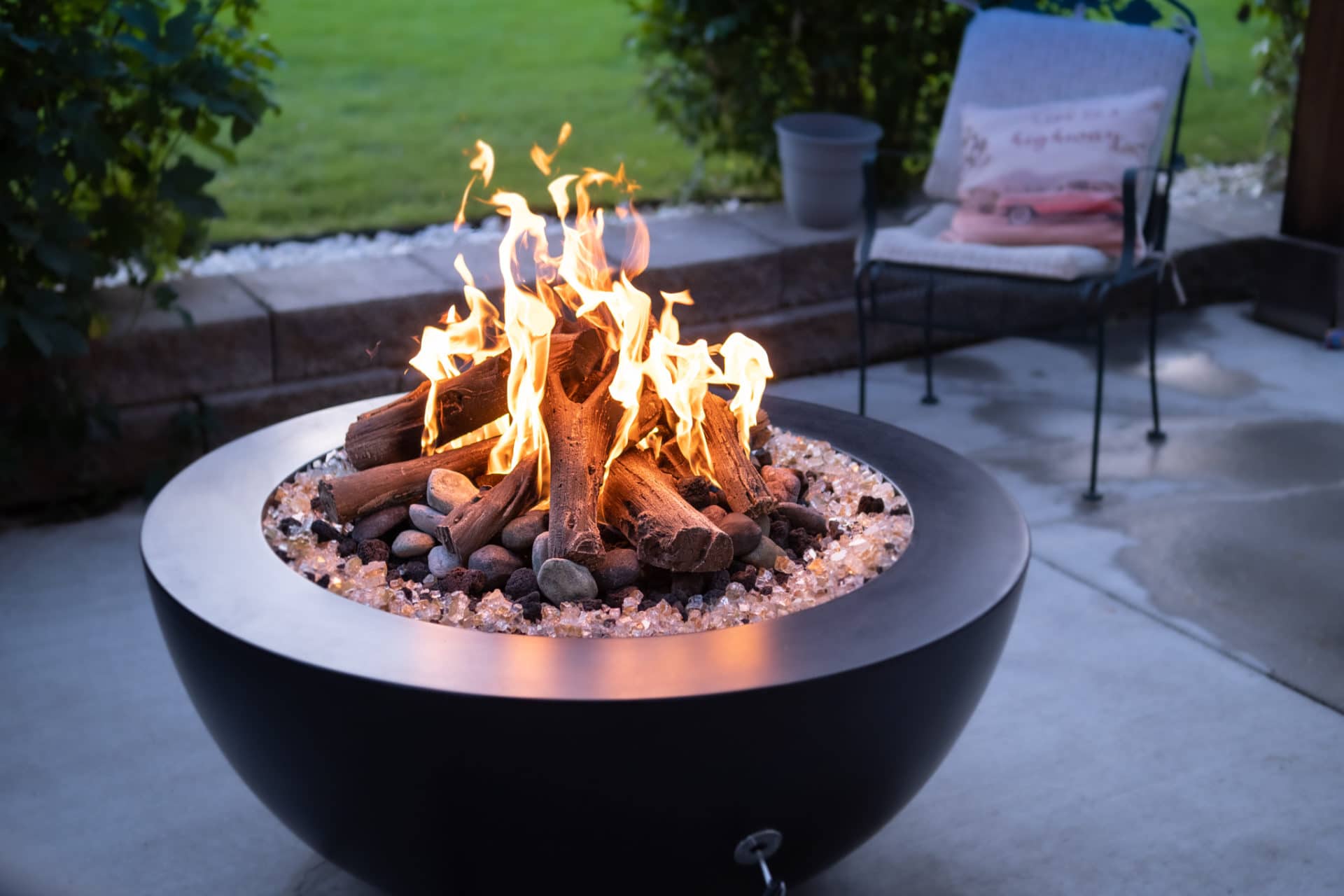 Please know that Concrete units are NON RETURNABLE. We are happy to send you specifications prior to help you make a more informed decision.
Should damage occur during shipping, we will do everything we can to address it ASAP.
There is a one year warranty on the pottery itself and a limited lifetime warranty on the crossfire burner.
The burner, plate, flex line kits and any burn media all ship separately from one another, so please expect multiple shipments. Montana Fire Pits is not responsible for installation. It is the customer's responsibility to arrange for a local gas professional to make the final connections.
Need Help Choosing The Right Burner?
The Warming Trends Crossfire Burner
Twice the Flame, Half the Gas!
Montana Fire Pits is an authorized dealer of Warming Trends Crossfire Burners! We are a small family owned company based in beautiful Missoula, Montana. When you call us, you are going to talk to a real person! Give us a call and let us help you.
All Brass Components
Limited Lifetime Warranty
100% Manufactured in the USA!
You've done all the research and it's all lead you right here. You've found the industries BEST OUTDOOR GAS FIRE PIT BURNER!
The Warming Trends Crossfire Burner is simply the best outdoor gas fire pit burner available. 100% brass construction will never corrode or fail.
The Crossfire burner produces the tallest, brightest, hottest and the most natural flame of any gas fire pit burner.
ICC Design Certified Crossfire™ Brass Burner is a state of the art outdoor patio flame system. Our Crossfire™ Brass Burner System was established with a specific air to gas mixture ratio which produces a taller, brighter flame while using half the fuel of conventional fire rings. This innovative technology has allowed our product to outperform all others on the market.
Warming Trends™ patented technology is unique only to our Crossfire™ Brass Burner System which allows you the benefit of offering your client's money and gas savings rewards. Stop using those old fashion fire rings and move into the future.
Available Colors

Urban Slate / Khaki / English Lead / Deep Amber / Cobalt Blue / Burnt Terra Cotta / Beechwood / Arctic White / Greek / Sequoia / Tuscan Wash / Charcoal Grey / Cool Grey / Black / Morning Fog / Rain Cloud / Evening Storm / Limestone / Natural Stone

Size

42" x 18" (comes with a 180K BTU Octagonal Crossfire Burner)
48" x 20" (comes with a 280K BTU Octagonal Crossfire Burner)
FREQUENTLY ASKED QUESTIONS
Watch this short video to answer this question and make sure your try our lava rock calculator!
It all depends on the heat retention you want to get and how much your care about your logs looking like wood. Watch this video to learn more about the effect that steel logs can create!