MAKE SURE YOU HAVE THE CORRECT GAS LINE SIZE FOR YOUR BURNER
This is such an important part of making sure your fire pit has nice, tall flames! It's the number one mistake I see people make when shopping fire pits. Watch the video, read the charts and make sure your Fire Pit works great!
(PLEASE NOTE: The information on this page is only meant to give you a rough estimate. For the most accurate info, consult a local gas professional- plumber, HVAC, or propane supplier)
EXTREMELY Important Gas Line Sizing Information
The biggest mistake that we see people make is not running a large enough gas line, or choosing a burner that operates at a much higher BTU rating than they're line, gas meter, or LP tank can supply. The burners operate well even at 70% of the fuel capacity. For example, let's say you only have 150K BTUs available, but you want to purchase a 180K BTU burner. Will you still get great flames? Yes. The Crossfire burners by Warming Trends are extremely efficient and utilize the BTUs incredibly well.
The charts below will help you figure out the burner size needed for your project, or if you haven't installed your gas line yet, what size it should be.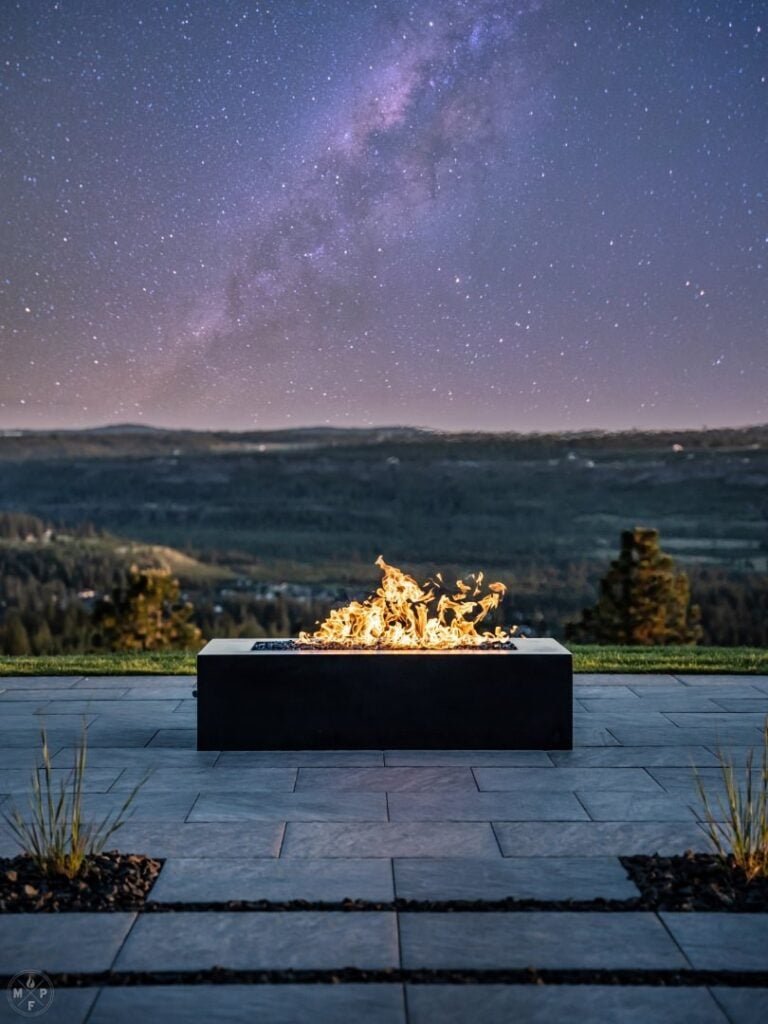 Use These Charts to Get Started
Propane Sizing Chart (Click to Enlarge)
LP Example:

 A fire feature with a burner that requires 440,000 BTU would need a 1″ line for a 20′ long run.
LP Gas Flow is given in thousands of BTU/hr. – One Cubic foot of LP gas – 2516 BTU
This chart refers to low-pressure LP, after regulation. The standard nominal pressure at the burner for liquid propane gas is 11″ of the water column.
Pipe length must include an additional length for all fittings. Add approximately 5 feet of pipe per fitting.
How To Read This Chart:
Use the left column to find the distance of your fire feature to the fuel source (distance in feet)
Use the top row to find the size of your gas pipe (1/2″ – 1-1/2″)
Find the approximate number of BTUs available (in thousands)

Now that you understand the importance of volume (BTUs), let's talk pressure. 

Optimal Pressure:

LP: 11-13″ water column (w.c.)

NG: 7-10″ water column (w.c.)

Water Column is the term used to measure pressure. There are 27.7 inches of water column pressure in 1 PSI of pressure. So 7″wc is about 1/4 PSI. This is the normal pressure that household natural gas is delivered.

The device used to measure pressure of this type is called a Manometer

Pressure too High? You may experience unwanted noise and a blowtorch effect 

Pressure too Low? The flame will not be as tall and hot
Disclaimers & Recommendations
CONSULT WITH A LOCAL GAS PROFESSIONAL TO DETERMINE ACCURATE BTU AVAILABILITY
Use this chart as a guideline ONLY. It does NOT account for variations in the type of pipe (plastic or iron)
Chart does NOT account for other appliances, meter pressure, or 90 degree fittings
Contact a gas professional to verify your gas pressure
Montana Fire Pits is not a licensed gas professional and is NOT able to calculate accurate BTU availability
Watch this Video for Fuel Tips
The Best Burner in the Industry
The Crossfire by Warming Trends
Need a Complete Fire Pit?
The Venture Series by Montana Fire Pits