An Extensive Guide to Natural Gas and Liquid Propane Fire Projects
1) Dimensions & Locations
Creating the Perfect Space
Fire features help create spaces to gather, to keep warm, and to provide ambiance. Utilize your backyard, deck, patio, pool area, courtyard; get creative with fire feature locations. 
Wood and synthetic decks are perfectly safe for gas fire features.
There's no need to protect the material the fire feature is setting on.
Most of the heat rises above the burner plate.
Design Idea Use multiple fires to create beautiful fire vignettes.
Use these measurements as a good starting point for your designing and planning. 
Round & Square standard opening sizes. This is the diameter of the "burn area":
18″, 24″, 30″, 36″, 42″, 48″, 60″
Add .5″ to 1″ to your opening to make room for the plate
Rectangular standard opening sizes
See H-STYLE and TREE-STYLE burner pages and use the Plate sizes to determine standard opening sizes
Add .5″ to 1″ to your opening to make room for the plate
Ideal top ledge width 
This is where you set drinks on, put feet up on, etc…
5″ to 12″
What's your preference? You could go with no ledge or with a large table-top ledge.
 
Depth of Plate
3″ to 5″ deep 
4″ is ideal
From the top of the plate to the top of the jet is about 3″
Clearances
Space around the burner: 5″ or more recommended
Clearance from a combustible wall or fixture: 36″
Combustible ceiling/overhang: 10 Feet Recommended
Click image below for a visual clearance guide
How far you set your seating from a fire determines how much heat you feel. If you live in a cooler climate, get closer. If it's a mild climate, you may not feel the need to sit as close. 
How to keep warm
Seating should be 18″ to 24″ from the edge of the fire feature
Only design tall fire features if you have tall chairs. For normal seating, standard height of fire features are around 16″ – 25″
For maximum warmth, keep it between 16″ and 20″ tall
Determining the proper height
If you plan on using 24v electronic ignition, you will need 10″-14″ of space below the plate
You can dig down below the fire feature to make more space if necessary
You can even design your fire to be at ground level
Avoid going higher than 24″, as you may feel less heat from the fire. Of course you can make it a taller table if you'd like to set taller chairs next to it.
Consider measuring and marking out your space. Click the image below for inspiration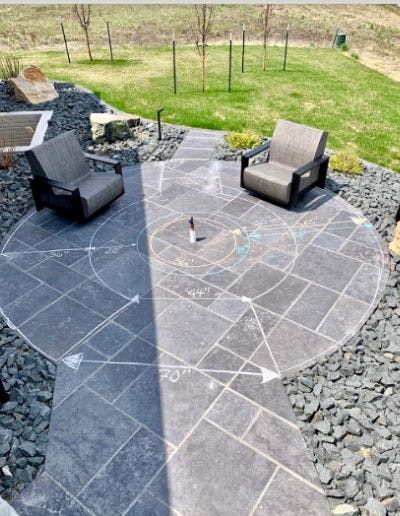 2) Working With a Contractor
Components | Complete | Custom
Gas Line Sizing | Pressure | BTUs
6) Key Valve & Flex Lines
You'll probably want these
There's more than one way to light a fire pit.
10) Fire Media & Heat Retention
Make it Beautiful AND Hot
This calculator assumes you have 3″ of lava rock and you want to cover it with 1″ of glass.
In order to get items to you as fast as possible, we may ship directly from manufactures/distributors. That is why you may receive multiple shipments from different locations. Here's a breakdown:
Fire Media (lava, glass, ceramic logs/cannonballs)
Origination: Phoenix, AZ

Under 150lbs/108″: FedEx

Over 150lbs/108″: Palletized Freight with various reputable companies
Burners, Plates, Fittings, RTF, Regulators, Ignition Systems
Origination: Denver, CO

36″ or under: UPS

Over 36″: Palletized Freight with various reputable companies
Venture Series
These are our in-house made fire tables.
When you order a Venture Series product, we will ship the burner package with the fire table. 
Fire media may come in a different shipment.
Complete Systems
Origination: Various U.S. Locations

Shipped Palletized Freight with various reputable companies
Production times change depending on the season. 
*Orders placed through custom quotes will not be trackable in the above status tracker
International Shipping
Standard

shipping and rates apply to all of the United States except for Alaska and Hawaii. 

Canada: 

In some cases, you may get billed from FedEx or UPS for customs and border fees

Other International Inquiries:

To ship internationally, you will need to ship to a freight forwarder in the U.S. and take responsibility from there.

For inquiries over 10,000 U.S Dollars, please fill out an inquiry form on our website