Enhancing Your Backyard With A Garden Fire Pit
You put time into tending to the land around your house. If you are the type of person that takes pride in their house and yard, then chances are that the look of your front and backyard are important to you.
Without a doubt, installing a fire pit or fire feature into your backyard garden is one of the most impressive ways to enhance it for both the look and the utility. Let us look at some different ideas for using a fire feature to add awe and flavor to your landscape.
Classic Fire Pit
Fire pits are the classic fire features for the backyard. There is nothing that taps into human ancestry quite as much as gathering around a fire. Perhaps you are under the impression that modern natural gas or propane fire pits are meant to be stuck onto the deck away from the garden. Not anymore! Many of the most creative fire pits are built into landscape features like a garden.
Imagine a beautiful fire pit placed with your garden surrounding. The gorgeous flowers, bushes, and trees form an alcove that dances in the firelight while the flame sprouts from a bed of ruby fire glass. It is your own little garden fire pit paradise.
Depending on how far your fire pit is from the house, you may need to run a natural gas line unless you are using a propane tank. For larger gathering fire features, it is sometimes easier to use propane and implement the container for the propane tank within the fire feature.
Garden Fire Features
While fire pits are also called fire features, fire features do not have to be fire pits. Fire features are natural gas or propane burners that produce a flame, while fire pits generally refer to fire features that are meant to sit or gather around.
Fire features range from large to small, multiple or single burners. Building your garden around a large-scale fire feature can be just the trick to take your landscape from impressive to amazing.
How about a waterfall feature built into your garden with a fire feature included? You could have a small build of rocks that hold the water pump and pipes with a pool at its base for recirculation surrounded by tropical plants like ferns and vines. At the top, you could have a linear burner that sits with its jets just protruding from the pool at the top of the waterfall. When the natural gas or propane flow through the jets and connects with a spark, a line of bright fire would flow across the waterfall opening transforming your garden fire feature into a day and nighttime wonder.
Garden Fire Accents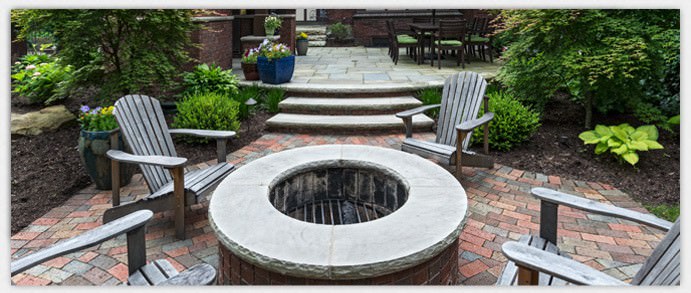 Not all fire features need to be as large scale as the ides we previously mentioned. Fire accents are generally smaller fire features that are comprised of all the same components as a fire pit, just without the need for seating.
Fire bowls and fire columns are very popular options for garden fire pits and features. If you have a large garden or landscape, you could place a number of fire columns or fire bowls around your garden to highlight different areas.
Just remember that you will need to feed natural gas or propane to each. As such, you will need to have either a propane tank for each or to create a network of gas line to feed each fire feature. If you are creating a gas line network, also remember that the diameter of the gas lines should increase in size as the length and number of features in the garden increases.
From Garden To Paradise
If you enjoying entertaining friends in the backyard during summer, then it might be time to think about building a fire feature. Whether you are looking at a garden fire pit or network of fire accents, using garden fire features is a great way to highlight the effort you put into your home and garden. No matter how crazy your idea, give us a call about your garden fire pit and we will help you make it happen!