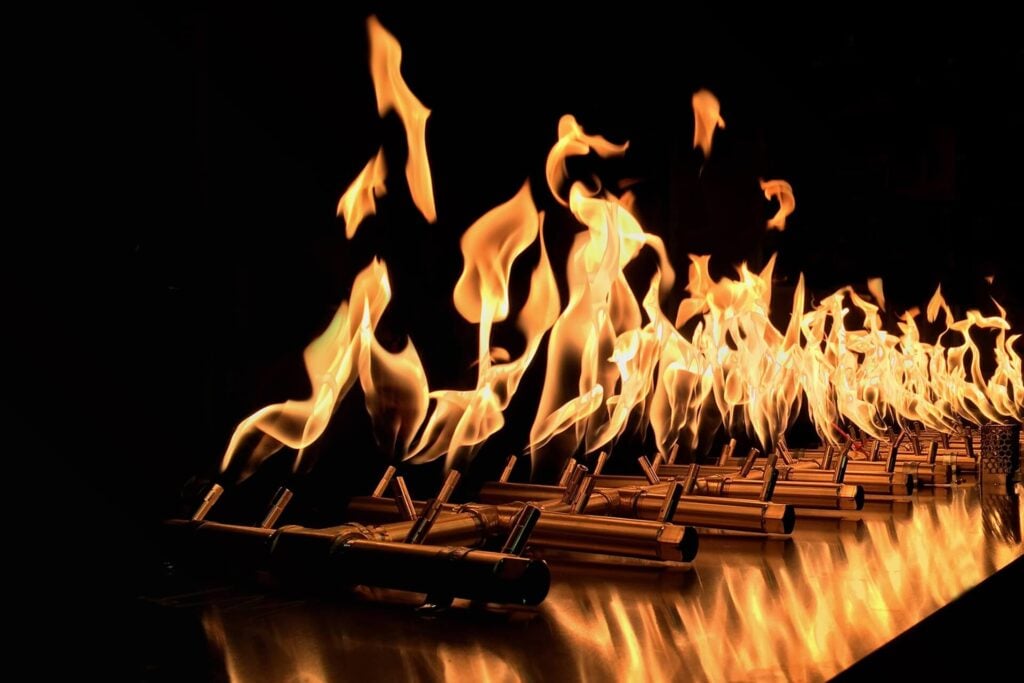 What is the Best Gas Fire Pit Burner?
Choosing the best gas fire pit burner for your needs depends on a number of features. Shape, flame style, size, BTUs and more, should all be considered before ordering your burner.
We believe that the best fire pit burner system is the Crossfire by Warming Trends. Almost everyday we get inquiries like this: "I have a fire pit with a stainless steel burner but I'm not happy with the flame. It's only 5″ high and it doesn't put out any heat. What can I do?"
This is the reason why we ONLY carry Warming Trends Crossfire brass burners; because we don't want to have that difficult conversation with our customers. If you have an adequate fuel supply, you WILL be satisfied with our burners!
You may pay more up-front for an all brass burner, but you will pay less over time for these reasons:
Brass does not corrode over time like stainless steel
You won't feel the need to "upgrade" to get a better flame… you will already have THE BEST
Limited LIFETIME warranty!
Twice the flame
Rusted out stainless steel burner vs brass Crossfire Burner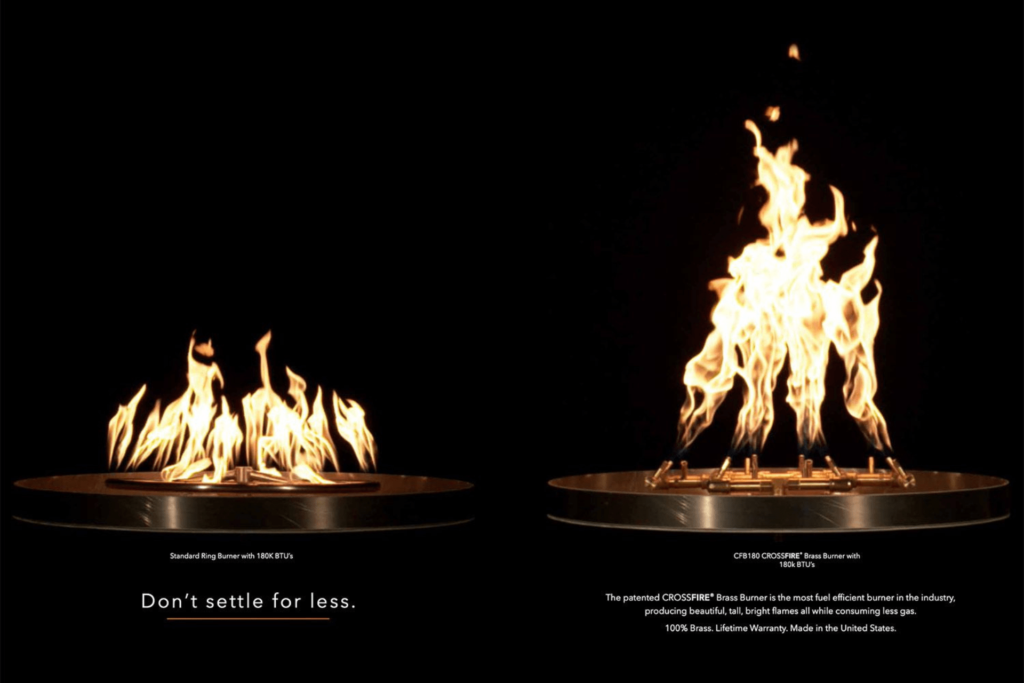 BTU Ratings
This part is simple: just make sure your gas line can supply at least 60-70% of what the burner is rated at. 
Example: 
Desired Burner:

180K BTUs

Minimum Required Fuel Volume:

at least 108K BTUs
You may not get quite as tall of flames if you do not have 100% of the BTU capacity, but you will still have a beautiful, hot, tall flame that mimics a wood burning fire. If you aren't sure what your BTU capacity is, consult your friendly neighborhood fuel professional, like a plumber or HVAC pro. For more information on fuel, click here. 
How Hot?
All of the fire pit burners we carry are HOT

All Crossfire models have the same "jets"; providing hotter, brighter, taller flames

The larger the burner, the more jets, therefore the higher the BTUs. 
Why do Warming Trends burners have so many more BTUs than others?
The secret is in the jets (no, you can't just buy the jets. Nice try!)

Other burners are made by poking small holes in stainless steel tubes. Gas just seeps out without mixing oxygen. The flame is small and not as hot or controlled, hence the smaller BTU ratings

Going with a stainless steel burner greatly increases the risk of being bummed with your fire 🙁

Crossfire burners produce twice the amount of flame with the same amount of fuel as conventional stainless steel burners

Crossfire simply refers to the orientation of the jets, which face toward each other
Choosing The Right Fire Pit Burner For You
Shape
First, start by deciding what shape your fire pit burn area will be. Our website makes it simple to choose the best fire pit burner for your build. Choose BURNERS from the drop down menu at the top of the homepage, then click on the shape of your fire pit opening.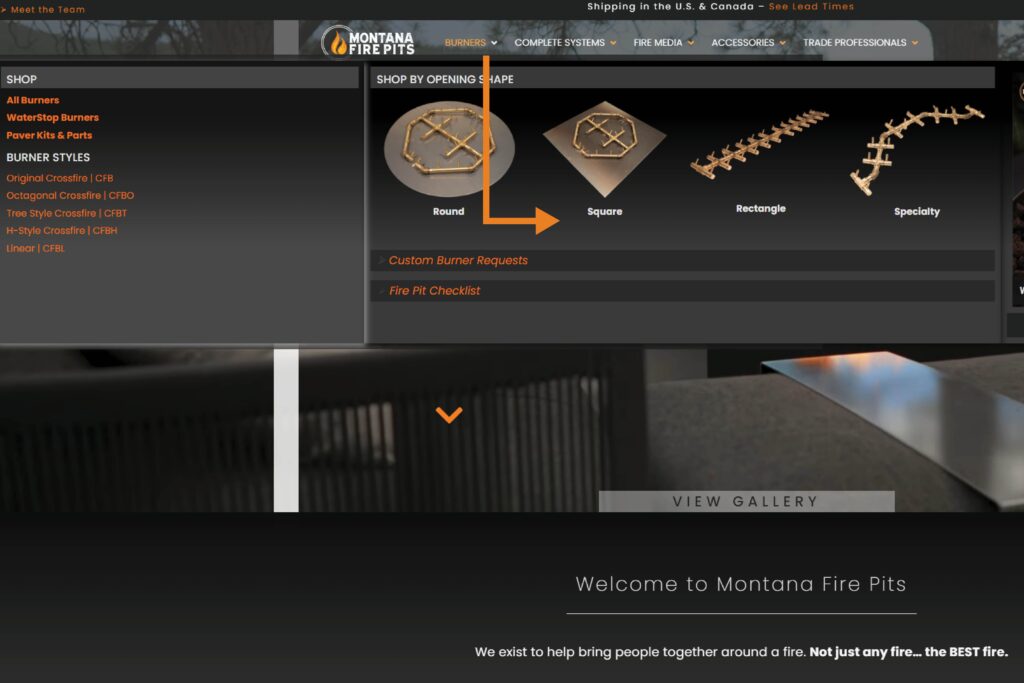 The shape of your opening will determine what style of gas fire pit burner will fit best. We offer the following burner styles:
Original

Octagonal

Tree-Style

Double Tree-Style

Square Tree-Style

Circular Tree-Style

Linear

H-style

Radial

Centipede

Custom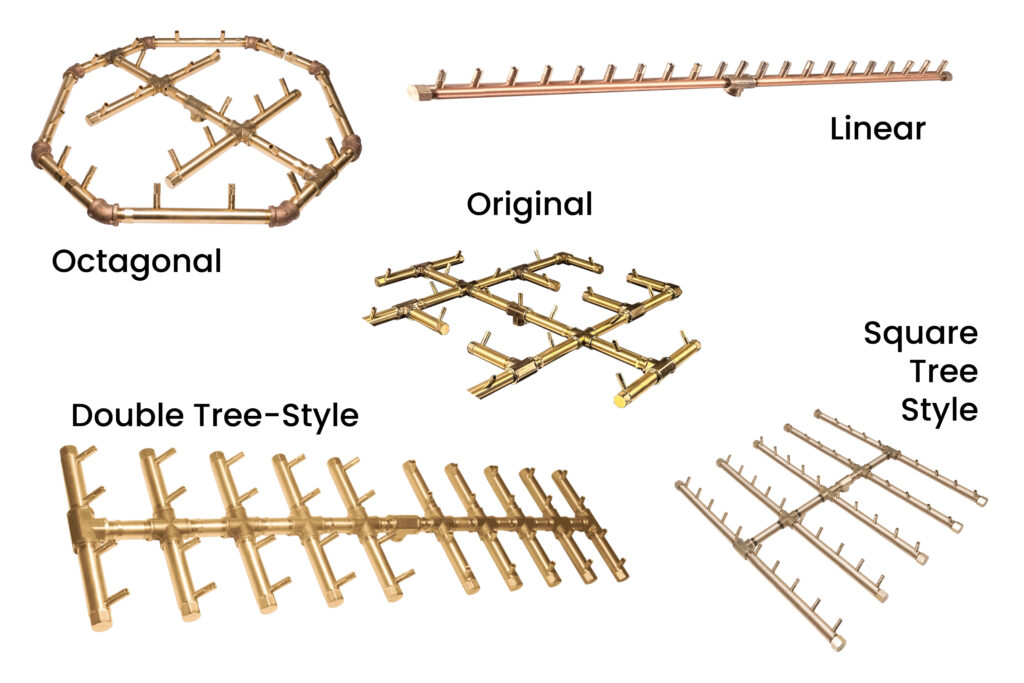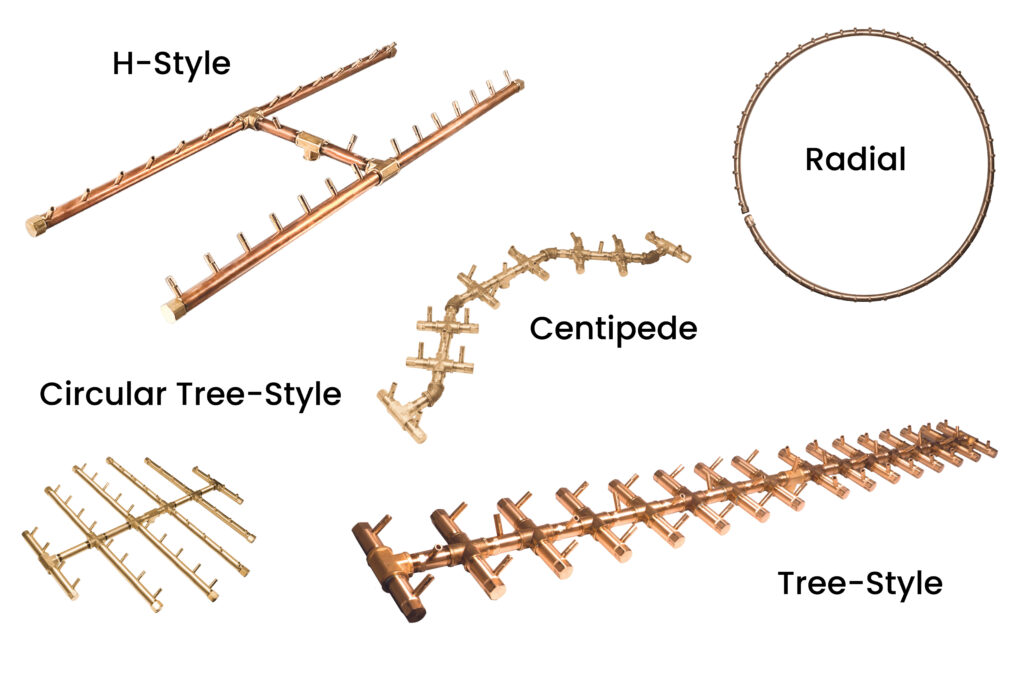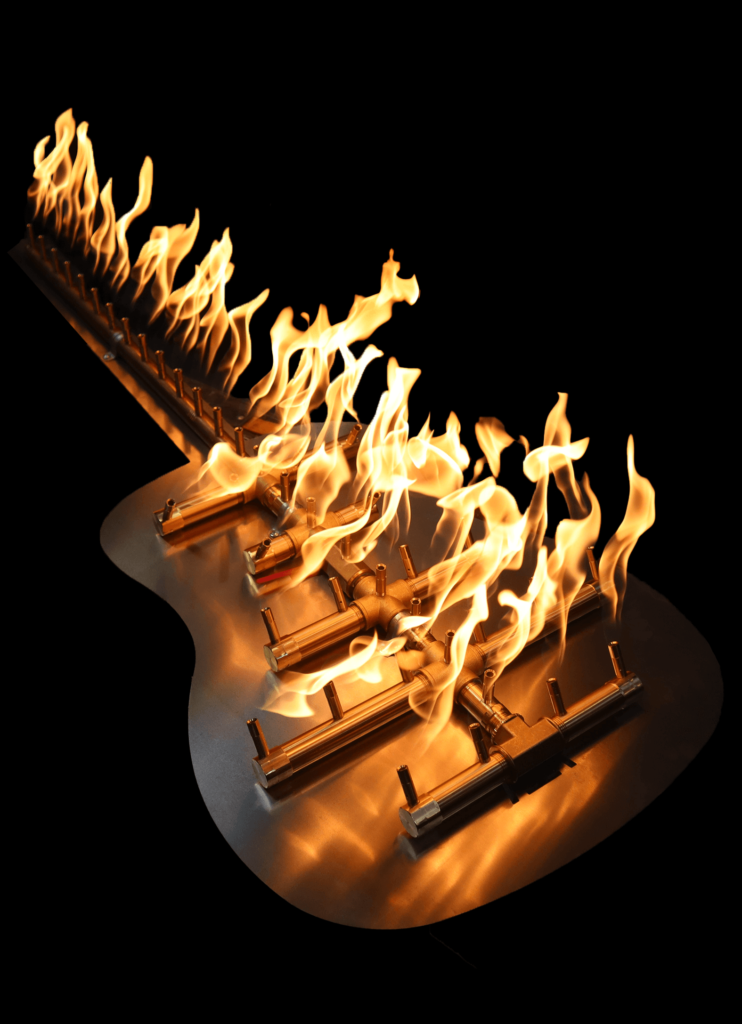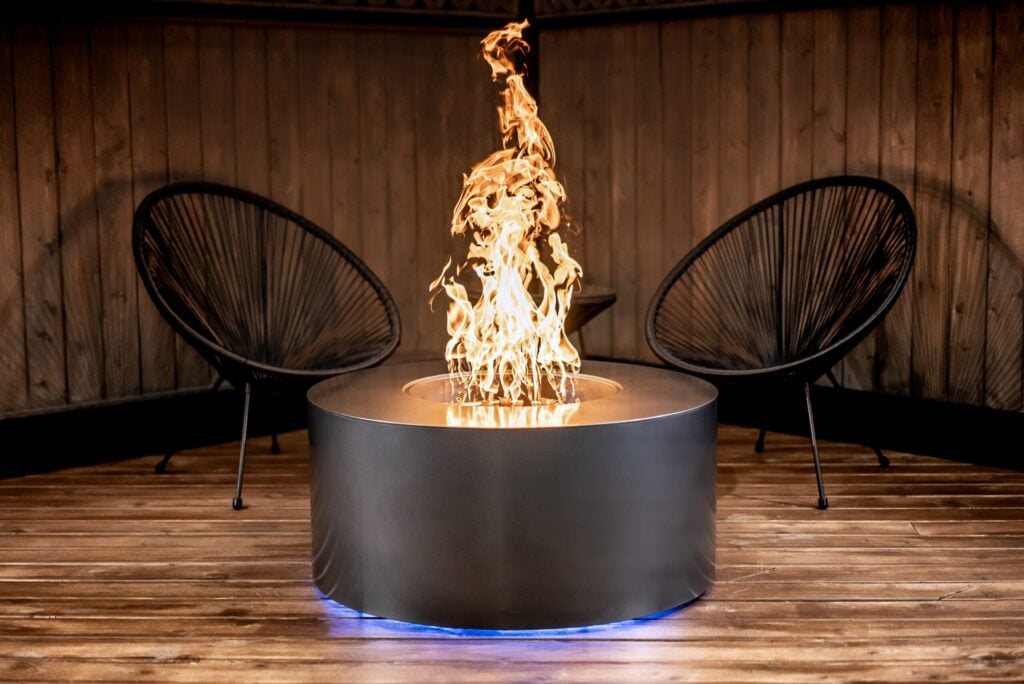 If you have a round opening, you will want either an Original, Octagonal, Circular Tree-Style or Radial burner. Those shapes are going to lend themselves very well to a round opening. The Octagonal burners get slightly taller flames than the other shapes and pack more BTUs into a smaller area, but all of these styles would work well. If you have the BTUs available, go for the Octagonal!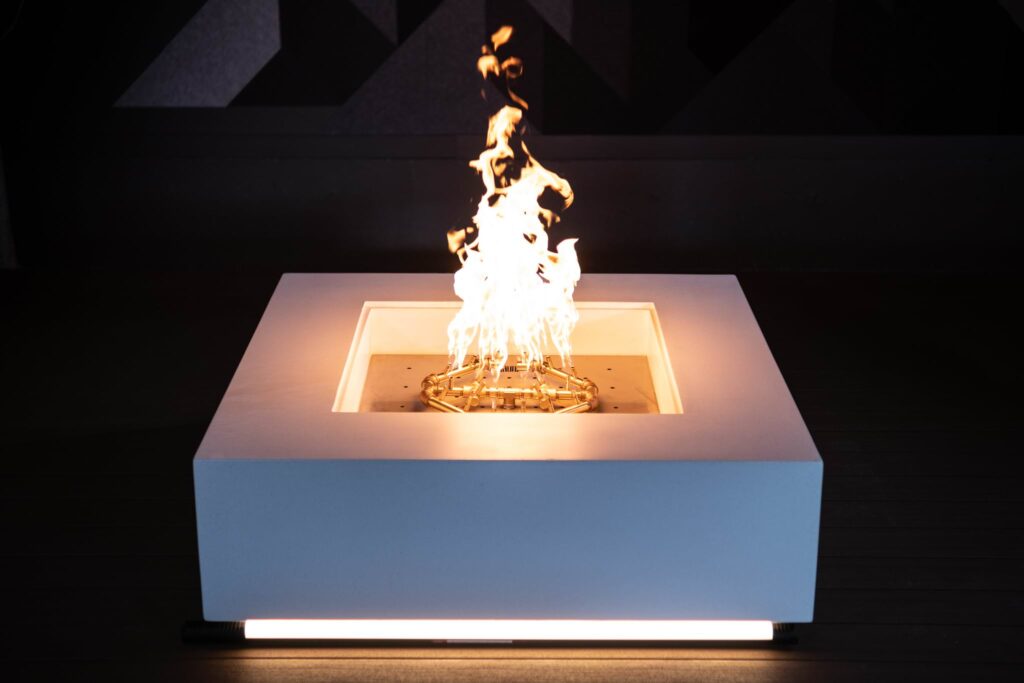 For square openings, you can choose from Original, Octagonal or Square Tree-Style burners. Like we mentioned above, the difference between the Octagonal would be you can pack more BTUs into a smaller area and get a slightly taller flame. The Square Tree-Style would have a larger flame footprint with more jets than the Original.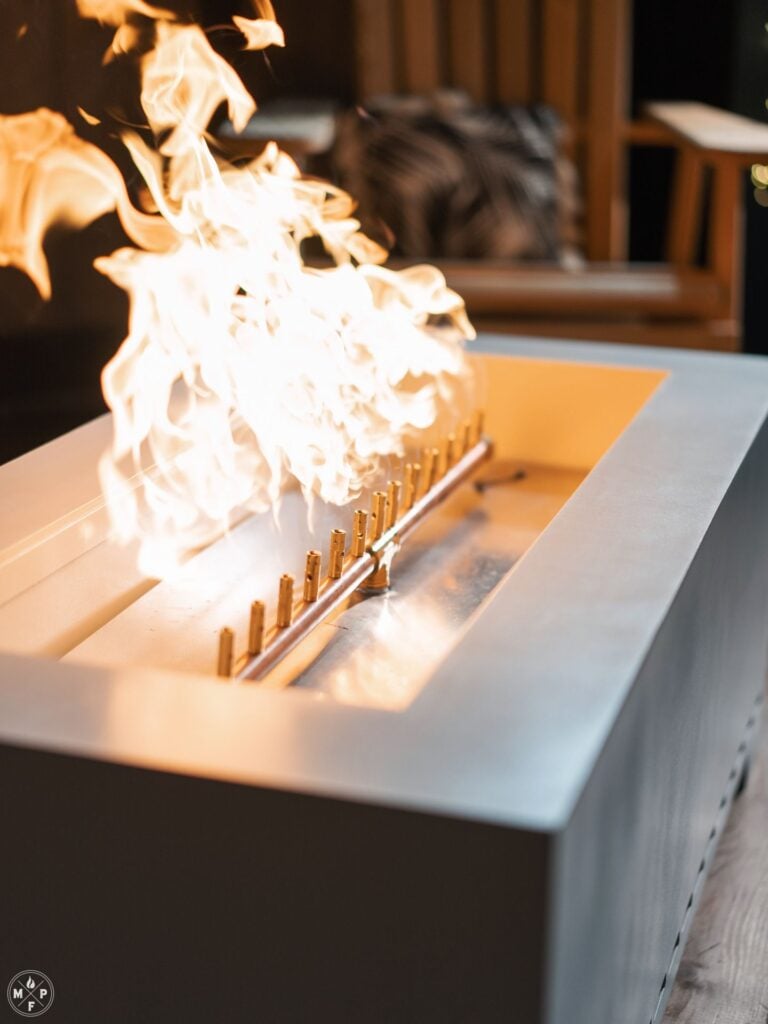 If your fire pit will be rectangular, you could use a Linear, Tree-Style, H-Style or Double Tree-Style.
Linear burners work best in narrower openings or builds that do not have the BTU capacity for Tree-Style burners. They create a "wall of flame" look.
Tree-Style burners work great in most rectangular openings. Double Tree-Styles work best in wider rectangular builds that have plenty of BTU capacity. H-Style burners work best in wider openings that have less BTU capacity.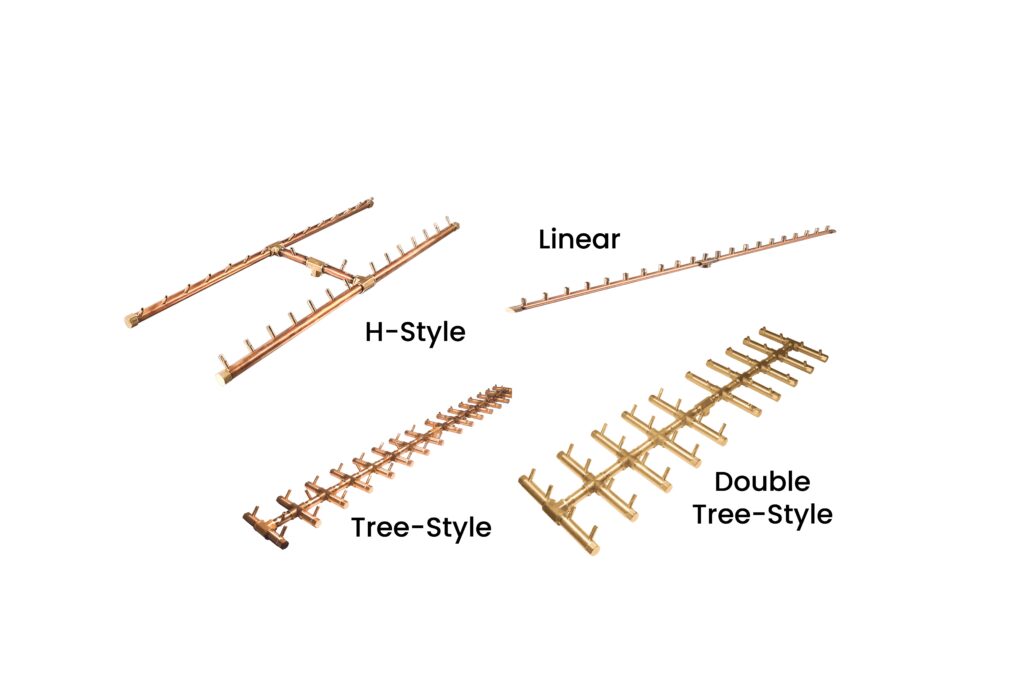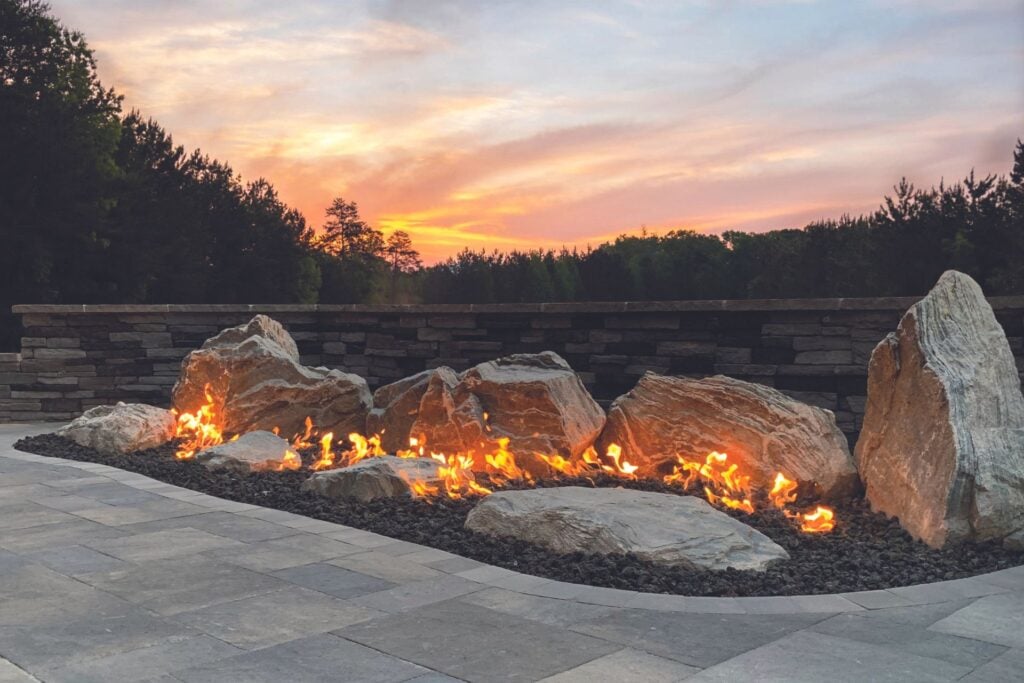 Warming Trends also makes some unique designs including the centipede or serpentine Crossfire Burners and radial Crossfire Burners.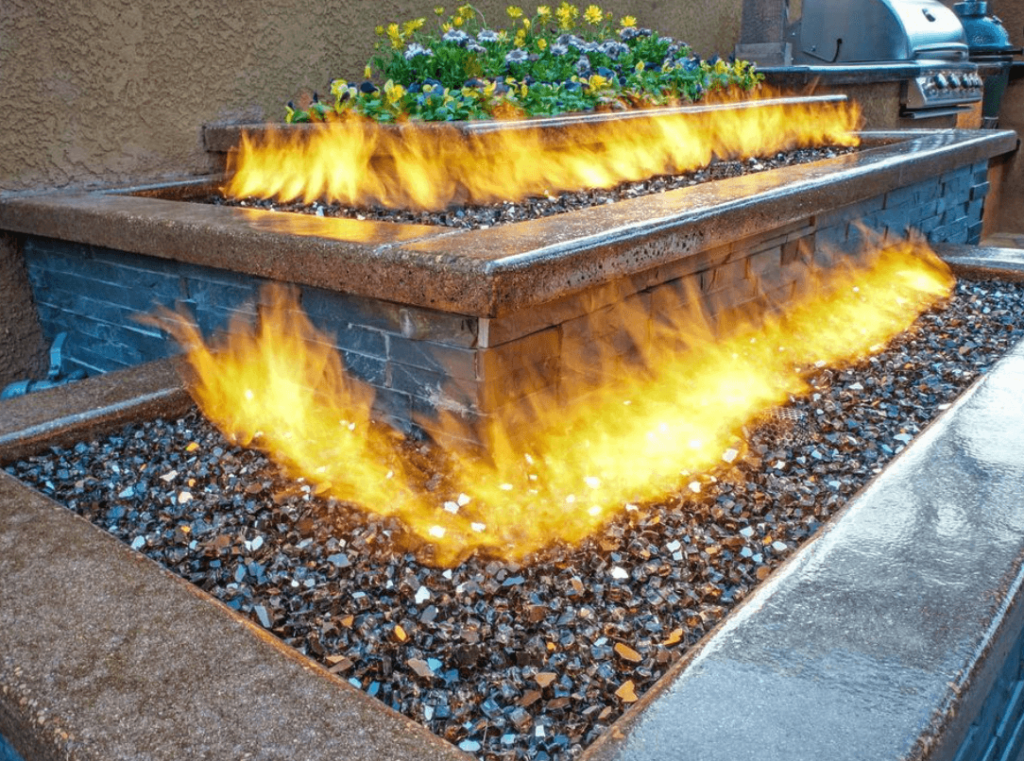 Custom burners are available including L-shapes, curves, extra long burners and more! 
Size
After you decide on a burning area shape, determine your inner dimensions. This is the burn area of your fire pit.
We recommend 5-6 inches of clearance between your burner and the edge/ledge of your fire feature. Because the Crossfire burners are all very hot, they can crack and/or discolor the ledge if they are situated too close. (One of the advantages of our Steel Venture Series fire tables is that they can pack hotter burners into smaller areas since the steel will not melt or crack.) 
Once you are on the correct burner shape page, select the size range for your inner dimensions on the left hand side. Each burner will say in the product title what size openings it is best suited for.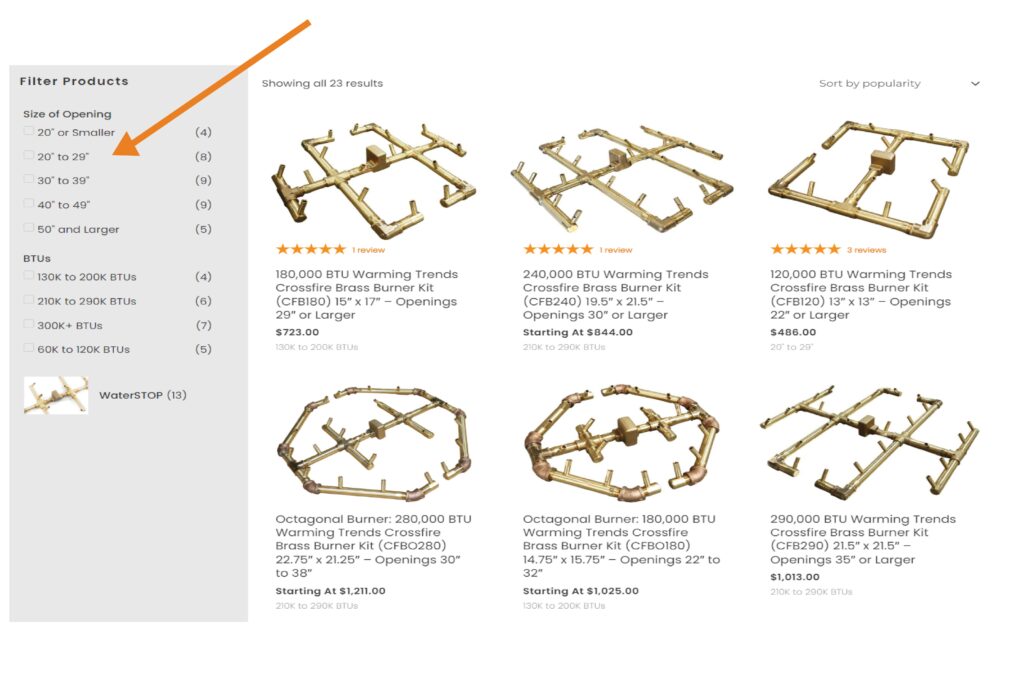 Our burner product pages make it incredibly easy to customize your burner kit for your build and make sure you get every piece of equipment you need. Simply move down the right hand side of the page, making selections as you go. More options will populate once you make selections of the fuel type and plate/pan. You can even add your base layer media directly from the burner page without having to determine how much you will need. We've done all the work for you!
Do you need a plate/pan?

See PLATES & PANS to help answer this question
If YES, choose a burner that has a plate size that works with your opening
If NO, make sure you keep 5-6″ of clear space around the burner so that the heat doesn't harm your top
Custom cut plates are available directly on the burner product pages
Flame Shape
We love Crossfire burners. The angle of the flame inward creates a strong flame that is impressive and mimics a wood burning fire. The shape of your burner will influence the flame style but all Crossfire burners have jets that direct toward one another. 
Depending on your build, there might only be one burner shape that works for you. If several shapes will work and you are having trouble deciding which is best for you, let us show you the differences in the videos below. 
In Conclusion
Now that you know how to choose the best gas fire pit burner for your project, you can bring the beauty and warmth of a wood burning fire to your outdoor space without the hassle of smoke and hauling wood! If you are still unsure about which burner is best for you or just have general ordering questions, don't hesitate to reach out!