4 Steps to Prepare Your Fire Pit for Winter
As the snow falls, the days grow shorter, and the weather grows colder, it can begin to feel like your entertainment activities are best enjoyed from the comfort and warmth of your own home. Winter can feel restricting at times, but for those with outdoor gas fire pits, it doesn't have to be this way. With just a little preparation and maintenance, it is possible to enjoy the warmth and ambiance of your outdoor fire pit year round.
Gas fire pits offer homeowners the opportunity to gather friends and family to enjoy conversation, relaxation, and perhaps a bit of hot cocoa while experiencing the joy of crisp, fresh winter air and the beauty of falling snow and the frosted foliage. Because they run on natural gas or propane, they can be used without the hassle of collecting and storing dry wood or starting a fire manually, making them an excellent addition to any backyard or patio. To prepare your gas fire pit for winter and enjoy all the benefits it has to offer, just follow these simple instructions.
1. Prepare Your Fire Pit
Whether you haven't used your fire pit for months or it's just in need of a little routine maintenance, be sure to prepare and clean it for maximum efficiency and protection from the elements. First, be sure to shut off the gas line and close the gas valves, located at the base of your fire pit. Additionally, turn off the fuel supply and remove the propane tank from the base of the fire pit.
Next, you'll want to inspect the rubber gas lines thoroughly for any signs of damage and inspect the gas lines and the portholes in the burner for any signs of obstruction and for the presence of debris. If your fire pit has any accessories or decorative features such as a wind guard, ceramic logs, or fire glass, remove them to be washed and replaced after cleaning.
Now that your fire pit is adequately prepared, it is time to give it a thorough cleaning.
2. Clean Your Fire Pit and Accessories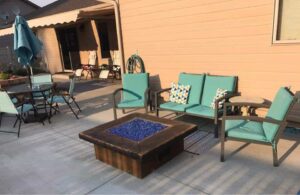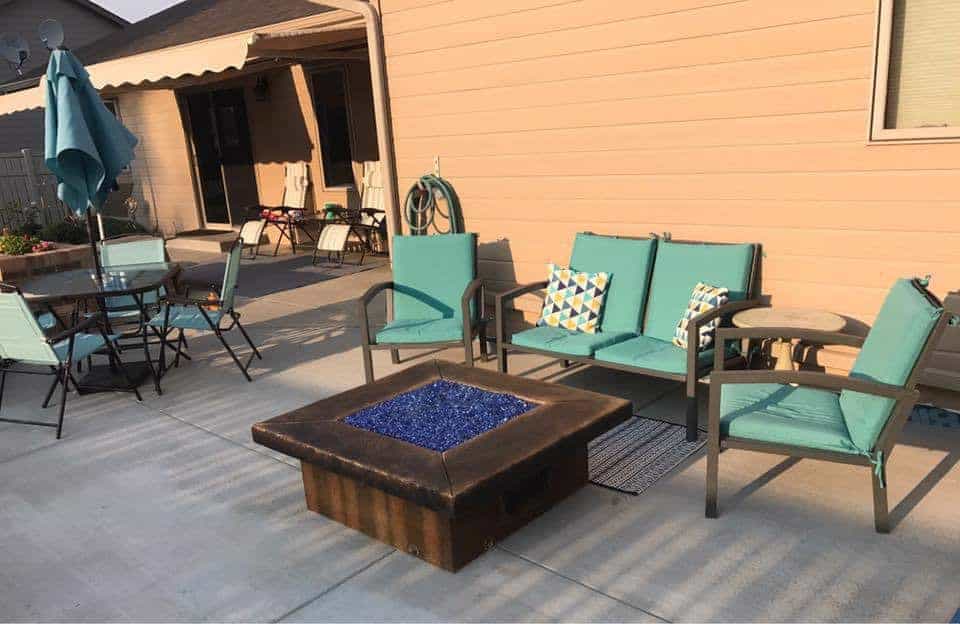 Using a mild household detergent, clean the portholes and gas lines. For hard to reach areas, use a toothbrush. Remove any accumulated debris from the base of the fire pit table, and clean this area thoroughly. Next, clean the burner, pipes, and the interior and exterior of your fire pit. Wipe down the sides and polish any areas with metal. Now it is time to address the accessories and decorative media.
Fire glass can be soaked in a bowl of warm water and mild detergent. Swish the stones around to remove any built-up grime or dirt, and then rinse the stones thoroughly. For ceramic logs and accessories such as wind guards, wipe clean with a damp cloth and mild detergent and rinse. After cleaning your fire pit and its accessories, dry each area thoroughly to prevent the formation of ice.
If you wish to continue using these features, replace them after drying. You can also store these features indoors and replace them each time you use your fire pit.
3. Cover Your Fire Pit
 Once your fire pit is free of dirt, debris, and other harmful materials, it can be used whenever you please. However, there is one more essential step when it comes to keeping your fire pit in good condition all year. The moisture from snow, rain, and other weather-related elements can cause unwanted damage to your fire pit, shortening its lifespan and creating the possibility of costly repairs.
To protect your outdoor fire pit from the harsh winter weather, use a high-quality vinyl cover whenever it is not in use. You can also use protective covers over the burners. Whatever the size, shape, or style of your fire pit, there are custom covers that can keep it looking and functioning its best.
4. Enjoy Your Fire Pit All Year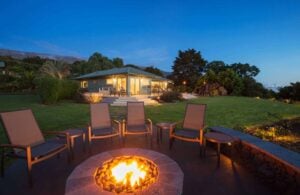 Whatever your favorite outdoor activities may be, you can enjoy them while staying warm and cozy by your fire pit. Invite your friends and family to a marshmallow roasting session, story reading time, a winter cookout, or simply pleasant conversation. Best of all, it is easy to use your fire pit to provide relief from the cool weather. Simply remove the vinyl cover, shake off the snow, hook up the fuel supply, and turn your fire pit on.
With a wide range of adjustable flame heights and temperatures, it is simple and quick to manipulate the fire pit so that it suits your needs, offers a comfortable and pleasant area to enjoy all the beauty winter has to offer.
Your's Truly,
Jonathan Howie