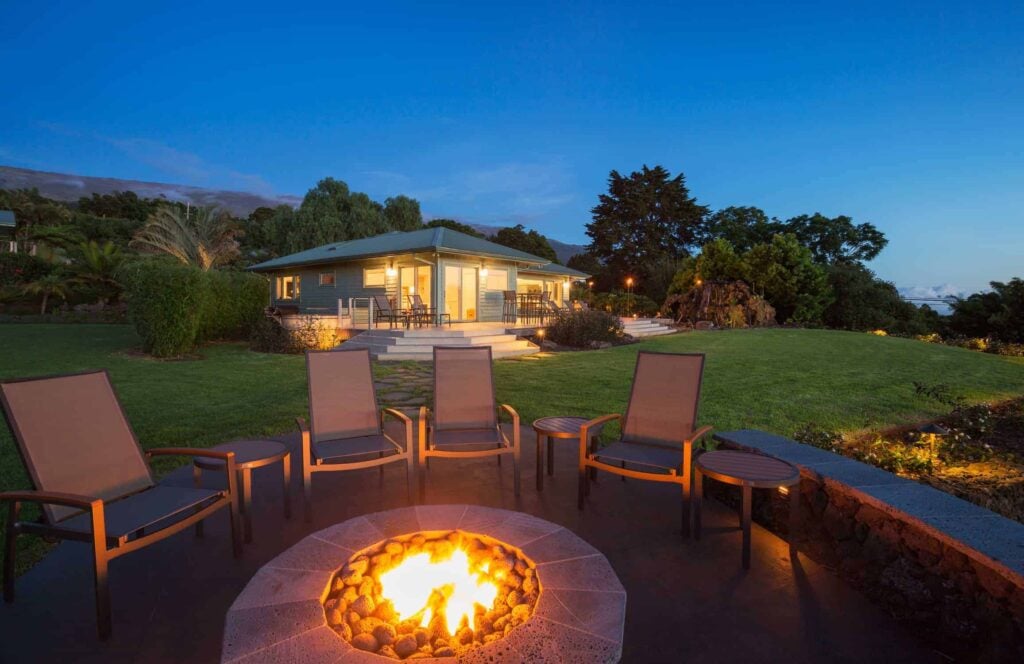 10 Great Fire Pit Party Ideas
Entertaining your company in the comfort of your own yard has never been easier and planning your outdoor get-togethers around a fire pit is equal parts fun and rewarding. To get you started, we've put together a list of enjoyable activities to try out with friends at your next fire pit party. So prepare your patio furniture, string up some lights, and get ready to make memories.
1. S'mores Party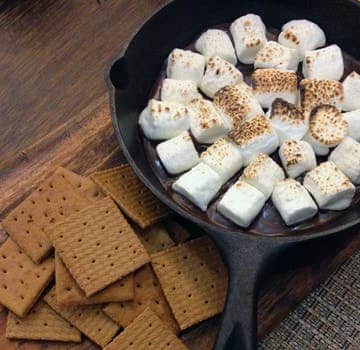 No outdoor fire pit get-together is complete without s'mores! Friends and family of all ages will love gathering around the fire to enjoy the gooey goodness of toasted marshmallows and melted chocolate. Keep it classic with the original recipe or get creative by providing your guests with a variety of ingredients with which to assemble their own creations.
What You Will Need
The Essentials
Marshmallows

Graham Crackers

Chocolate

Skewers

A Buffet Style Ingredient Bar

Wet Wipes
The Extras
Ghirardelli Mint Chocolate Squares

Ghirardelli Sea Salt Caramel Squares

Bacon

Chocolate Graham Crackers

Peanut Butter

Nutella

Raspberry Preserves

Strawberry Slices

Banana Slices
Displaying your ingredients on a buffet style bar will give you the opportunity to liven up your party with the decorations of your choice. Add a touch of color with a lovely tablecloth and an assortment of bright bowls, or keep it simple and rustic with a wooden table and glass jars. Get extra creative by adding a chalkboard with fun recipes for your guests to try. Once your table is arranged, provide your guests with their own skewers.
Roasting marshmallows over an open flame can be potentially dangerous, so we recommend keeping your party safe and kid-friendly by using extendable skewers like these. Finally, for a hassle-free cleanup be sure to stock your s'mores station with wet wipes.  
2. Game Night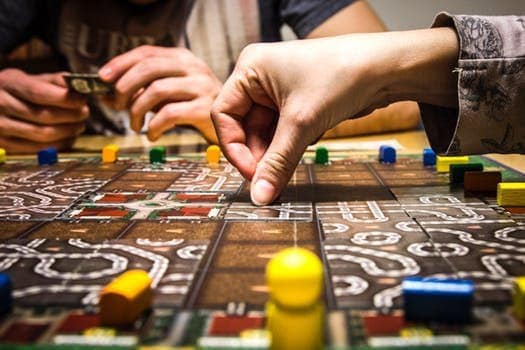 Encourage some healthy competition among friends with an entertaining game night. Keep things simple by sticking with easy group activities like charades or the name game, test your guests' knowledge with a trivia night theme, sharpen your communication skills with Slip of the Tongue, or even cater to an adult crowd with Cards Against Humanity. Add to the fun, encourage participation, and raise the stakes by offering prizes.
What You Will Need
Game Selections

Chalkboard/Whiteboard

Prizes

Snacks/Refreshments
Keep the competitive spirit alive by using a whiteboard or chalkboard to keep score. Provide your guests with a variety of games and prizes to choose from. If shopping for prizes proves to be a hassle, feel free to ask your guests to arrive with an item of their choice to donate. A few good suggestions include bottles of wine, gift cards, candles, books, etc.
Of course, no good fire pit party is complete without snacks and refreshments! Whether you choose a potluck-style spread or to whip up some of your own favorite recipes, be sure to include a self-serve appetizer bar and a well-stocked cooler.
3. Wine Tasting Party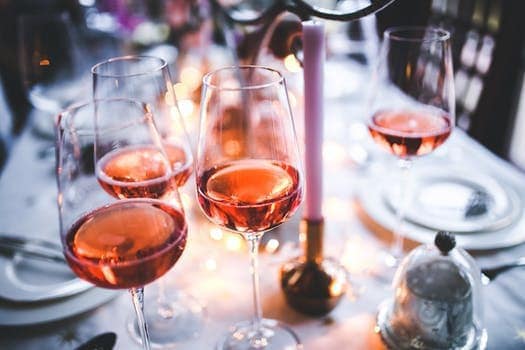 Bring the elegance of a fine dining experience to your own backyard by hosting a wine tasting party.  Your friends are sure to be impressed by the opportunity to sample a plethora of wine selections and discuss their observations with others. Add a touch of class to your fire pit get together with just a bit of planning and shopping. Unlike a dinner party, this event requires very little preparation and cleanup allowing you more time to converse and enjoy your company.
What You Will Need
The Essentials
Identical Wine Glasses

Water Pitcher/Glasses

Corkscrew

4-6 Wine Selections

Napkins

Spittoons

Wine Information Printout
The Extras
Before your guests arrive, we recommend setting each place at your table with the following: a napkin, glasses for each wine, a glass of water, a personal spittoon, and a printout with information about each bottle of wine you have selected. Be sure to limit your choices to 4-6 selections so as not to overwhelm the palate. If you wish, you may select a theme such as wines from a specific region or vineyard.
For added fun, you could remove the labels and see if your guests can match the wine flavor to the description cards.
Once your company has settled in, lead them through the tasting starting with white wine and ending with red. If you're new to wine tasting, be sure to check out these helpful guidelines on proper tasting techniques from Wine Enthusiast. You may choose to provide your guests with a notepad and pen to record their observations or simply encourage a group discussion.
4. Outdoor Movie Night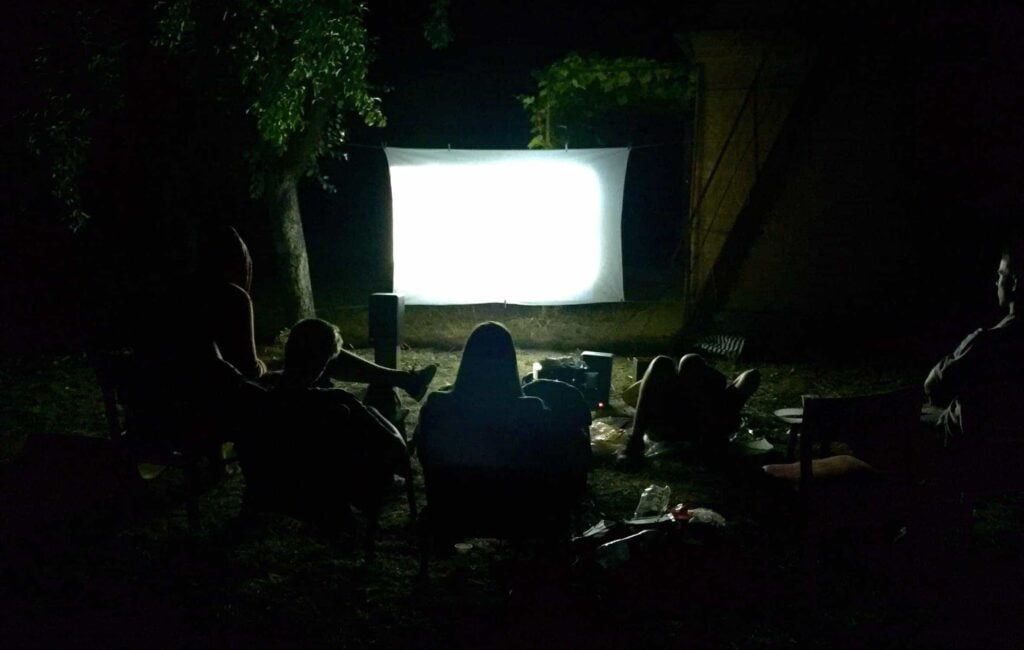 Enjoy the nostalgic feeling of a drive-in movie by transforming your yard into a cozy outdoor theatre. Assembling your backyard cinema may be easier than you think and it will provide guests of all ages with a unique, memorable viewing experience. Stick with a family-friendly Disney theme or add a hint of exhilaration with a marathon of classic horror films.
What You Will Need
The Essentials
Projector

White Sheet

Media Player/Laptop

Speaker
The Extras
Popcorn/Toppings

Beverages

Candy
If you don't already own a projector, you may decide to purchase the model of your choice or build your own DIY Projector with a Smartphone. Start with a quick and easy setup by hanging a white sheet from a clothesline between trees. Next, assemble your media station with a laptop, speaker, and a projector. For seating, you can provide folding chairs or have your guests sprawl out on the lawn with blankets and cushions. To add some extra magic, send out movie ticket invitations and arrange a self-serve popcorn and candy bar. Make sure to keep your guests safe by using string lights to illuminate pathways. For cooler nights, add blankets and pillows and be sure to keep the fire pit lit.
5. Kebab Party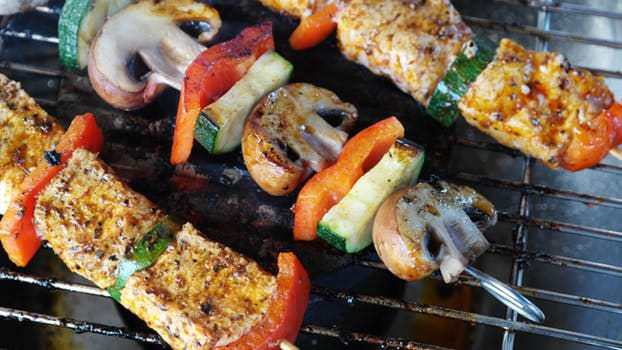 Host a backyard barbecue with a twist by throwing a kebab party. Relatively easy to prepare and loads of fun for your guests to assemble, kebabs are a fun alternative to the traditional menu of hotdogs and burgers. Let your friends get creative or lend them a helping hand by providing a menu with your own suggestions. Or if you'd like, spice things up by selecting ingredients that correspond with a specific theme.
What You Will Need
Vegetables/Meat/Seafood

Metal Skewers

Napkins/Plates

Beverages
There are many different ways to throw a kebab party. Ensure a smooth celebration by marinating your meats and slicing your vegetables ahead of time. Throw together an ingredient bar complete with herbs and seasonings for your friends to assemble and cook their own skewers, or simply designate a chef and collect orders from each guest. If you're looking for some fun recipes to try, check out these kebab recipes from Food Network. 
6. Backyard Camping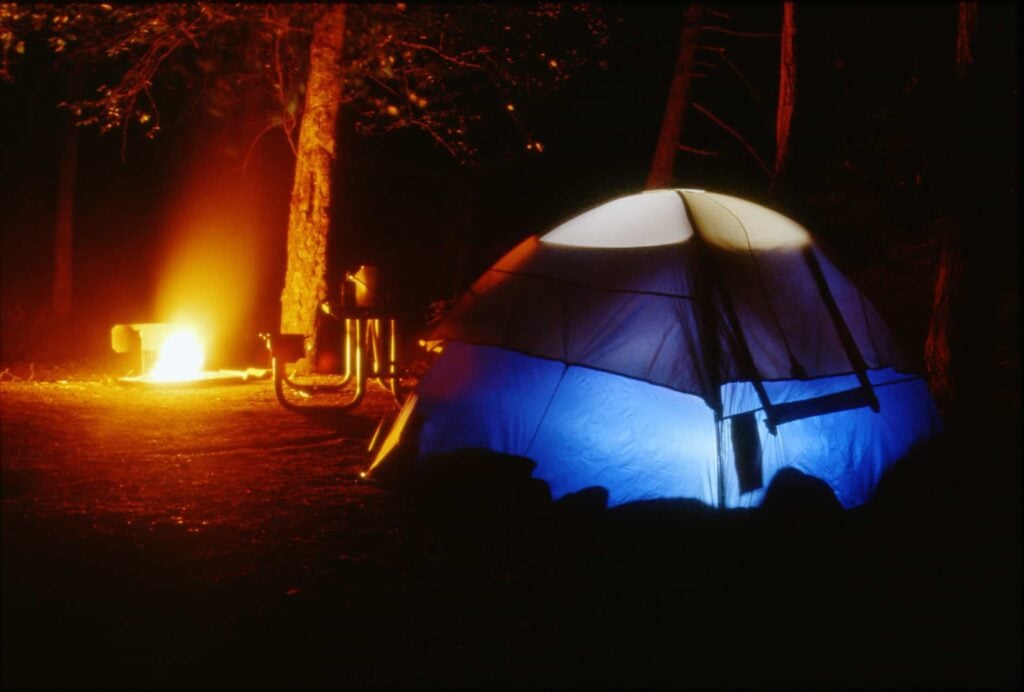 Sure, camping makes a great summer outing, but why not gather your friends and family for a campout in the convenience of your own backyard? This party puts an adventurous spin on a traditional slumber party, and who can deny that a bathroom within walking distance adds a certain sense of luxury generally not afforded by other camping trips? Gas fire pits offer the feel of a campground without the hassle of chopping wood or the fire restrictions that are so common in the summer. Check your weather app, prepare your bug spray, and get ready for a fun-filled night outdoors.
What You Will Need
Tents

Sleeping Bags

Pillows
Many of the party ideas within this list can be accompanied by a backyard campout. The best part about backyard camping is its simplicity. The essential items required for this activity will likely be provided by your guests, and setup is a breeze. Once the tents are pitched and sleeping arrangements are made, you and your guests are free to relax around the fire with hot chocolate.
7. Karaoke Night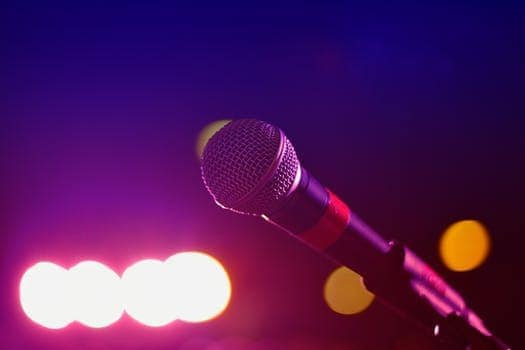 Show off your musical talent with a karaoke night. Your friends and loved ones will surely enjoy the chance to sing along with their favorite tune! Karaoke provides an ideal icebreaking get together that is just as much fun for performers as for spectators.
What You Will Need
or
A karaoke party is among the easiest to plan. Whether you choose to use a karaoke machine or simply an app, your backyard will become an area of entertainment and delight. For a stage, you may assemble your guests around an elevated area such as a deck, or simply designate an area on the lawn and position chairs or blankets accordingly. If you are hosting the party at night, be sure to include a spotlight for performers. Take your karaoke night to the next level by choosing a theme such as 80's music and encouraging your guests to arrive in costume.
8. Ghost Story Party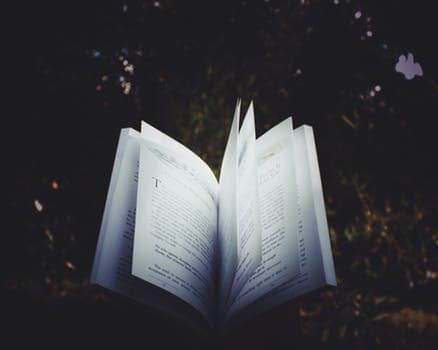 Add some spooky vibes to your fire pit party by planning a ghost story night. Fall is the perfect time to organize a Halloween style celebration by gathering around the warmth of a fire and swapping classic horror tales and personal favorites. Ghost story parties are hassle-free and easy to plan, and they provide hours of freaky fun for the whole family.
What You Will Need
Ghost Stories

Chilling Music

Spooky Decorations
Sure, you don't necessarily need to decorate for your ghost story party, but where's the fun in that? Break out those Halloween decorations, tack up some fake spider webs, and add to the bone-chilling atmosphere with dry ice. Play a spooky soundtrack on a phone or small speaker to enhance the entire experience. Take turns reciting memorized tales or terror, or find some inspiration by reading from a collection of short stories such as A Dark Collection: 12 Scary Stories.
9. Stargazing Party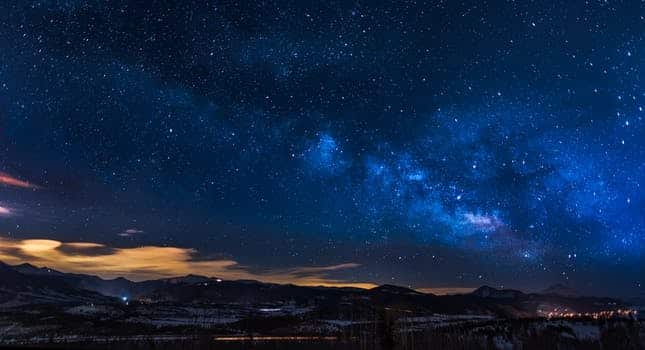 You don't have to possess an extensive knowledge of astronomy to enjoy the sense of wonder that a stargazing party can provide. There is truly no feeling that quite compares to the serenity of staring into the vast expanse of the night sky. This cozy activity is a delight to share with others, so invite some friends, spread out in the yard, and take a moment to appreciate the beauty.
What You Will Need
Blankets/Cushions

Constellation Maps

Telescope/Binoculars
All you really need for your stargazing party is an area that allows for an unobstructed view of the sky. If you have or are planning to buy your own telescope, you may choose to set it up for a close up viewing experience, otherwise, a set of binoculars are an excellent alternative. There are many constellation books and maps to choose from, or you can embrace the miracle of modern technology by taking advantage of the numerous apps available on your phone or tablet. Take your lounging space to the next level by filling inflatable rafts with blankets and pillows.
10 Scotch and Cigar Night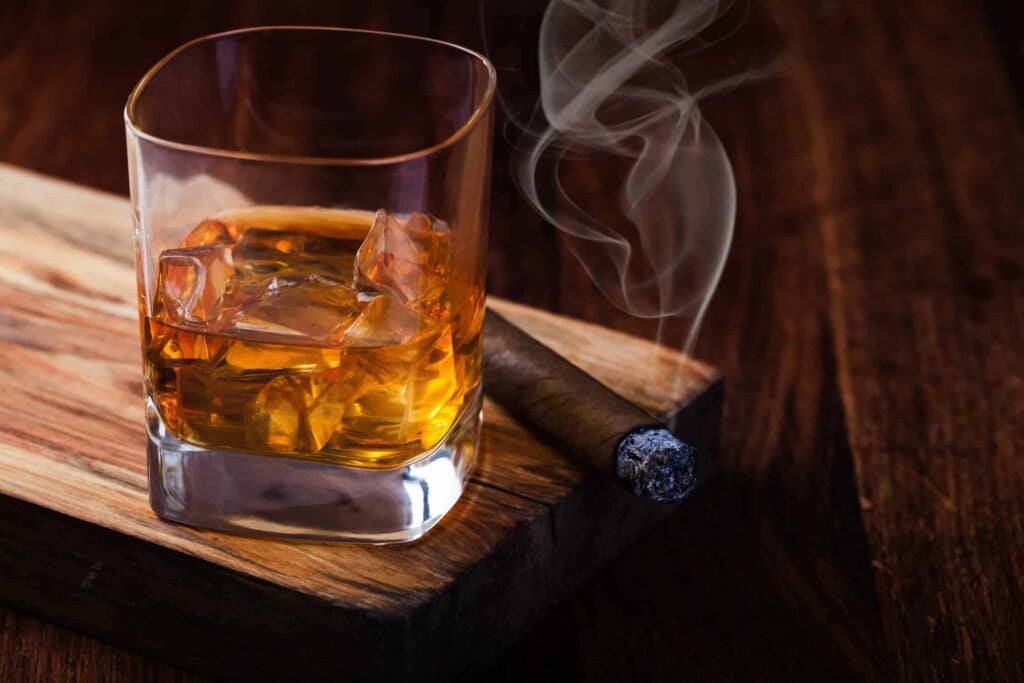 Nothing says luxury quite like pairing your favorite scotch with a cigar that compliments its taste. Enjoy a night of exquisite entertainment and conversation by the ambiance of the fire. Offer a selection of your own desired spirits and cigars, or invite your company to share their own chosen pairings. 
What You Will Need
Scotch Selections

Proper Glassware

Table Crackers

Cigar Selections

Ashtrays

Guillotine Cutter
The art of scotch and cigar pairing is often a matter of personal preference and palate. As a general rule of thumb, create pleasing combinations by matching the body of the cigar to the body of your chosen beverage for flavors that do not overpower, but rather complement each other. For recommendations, you may check out this article from Forbes. Provide your tasting companions with a variety, either region-specific or from a single distillery. Reserve time to engage in a lively discussion at the end.
If you don't already have a fire pit to entertain guests, be sure to check out our full selection of industry leading outdoor gas fire pits and also check out our helpful DIY fire pit planning videos. Lots of helpful information for those who are new to the sport!
Party on fire pit people!!!
Your's Truly,
Jonathan Howie