You've found the Best Gas Fire Pit Burner!
1. Select FUEL – Natural Gas or Propane
2. Select PLATE SIZE – 30″ or 36″ round or square or "none"
3. Select KEY VALVE & FLEX LINE KIT
Need Help Choosing The Right Gas Fire Pit Burner?
---
The Warming Trends Crossfire Gas Fire Pit Burner
Twice the Flame, Half the Gas!
Montana Fire Pits is an authorized dealer of Warming Trends Crossfire Burners! We are a small family owned company based in beautiful Missoula, Montana. When you call us, you are going to talk to a real person! Give us a call and let us help you.
All Brass Components
Limited Lifetime Warranty
100% Manufactured in the USA!
You've done all the research and it's all lead you right here. You've found the industry's BEST GAS FIRE PIT BURNER!
The Warming Trends Crossfire Burner is made from 100% brass construction which will never corrode or fail.
Our Crossfire burners produce the tallest, brightest, hottest, and most natural flames of any gas fire pit burner.
ICC Design Certified Crossfire™ Brass Burner is a state-of-the-art flame system. Our Crossfire™ Brass Burner System was established with a specific air-to-gas mixture ratio which produces a taller, brighter flame while using half the fuel of conventional fire rings. This innovative technology has allowed our product to outperform all other outdoor fire features on the market.
Warming Trends™ patented technology is unique only to our Crossfire™ Brass Burner System which allows you the benefit of offering your client's money and gas savings rewards. Stop using those old fashion fire rings and move into the future.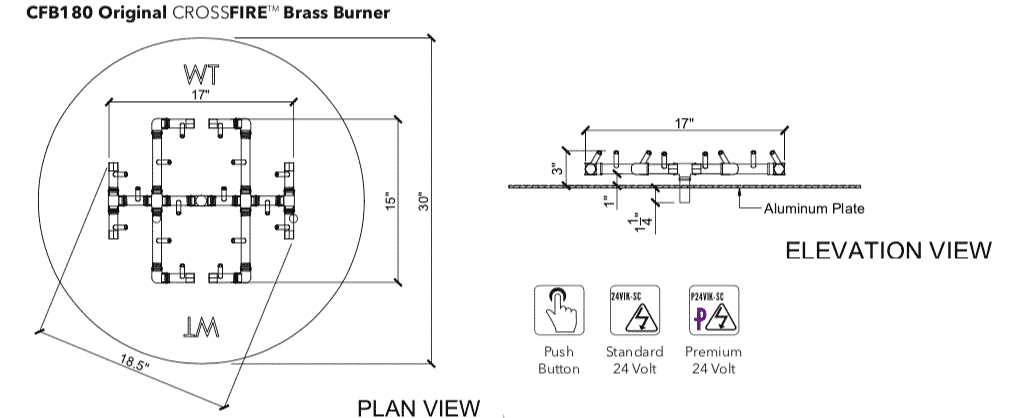 ---
Still Need Help?
Email us directly: [email protected]