Concrete Fire Bowls for Gas Fire Pits
Concrete Fire Bowl Designs & Features
Concrete fire bowls are a simple, beautiful way to install a gas fire pit in your backyard. Fire bowls come in different sizes, shapes, and colors which provides you with loads of options to match your own tastes.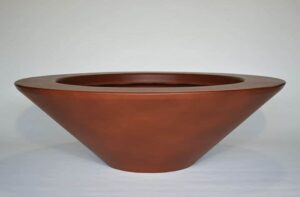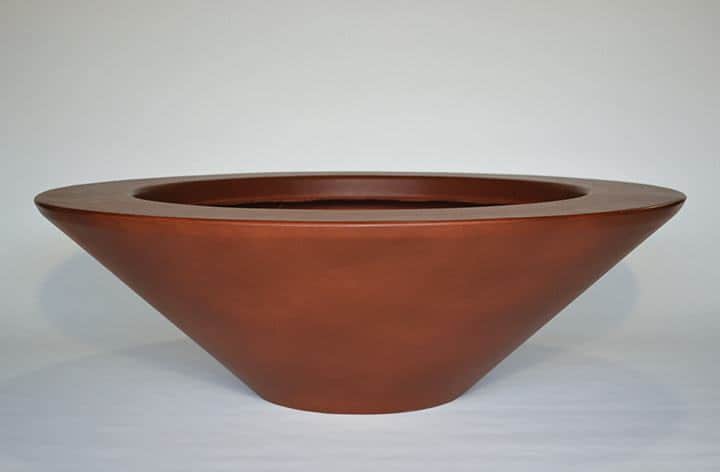 We teamed up with Architectural Potteries to offer some of their finest fire bowls in our fire pit kits. See what a beautiful thing that ends up being? The featured fire bowl is called a called a Geo Round. It is fairly small, measuring at just 31 inches in diameter with an inside diameter of 24 inches. It comes with a 120,000 BTU burner on a 24 inch round plate. It has a simple, yet elegant shape, rich color, and sturdy design. Architectural Potteries fire bowls range from the petite bowl like the Geo Round to hulking 42 inch mammoths.
You can use these smaller fire pits as accents around a pool area or smaller landscape. They add a touch of primal energy to any backyard space.
Durability, Simplicity & Beauty
Architectural Potteries fire bowls have many features that stand out beyond their competition. For example, their colors are integral rather than painted. This creates a smooth, durable color that will last forever.
Lighting these fire bowls are painlessly simple. They have a quarter turn key. You turn the key valve just a little bit and you are able to easily light it with a barbecue lighter.
We opt for the crossfire burners for our concrete fire bowls, which tend to have taller jets. Keep this in mind when installing with a fire bowl as you may need to mound your fire media higher to hide the jets.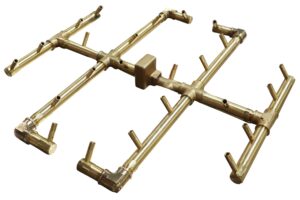 All of our fire pit packages come complete. They typically include the concrete fire bowl, a 120 to 180 fire pit burner, and a Match lit ignition system. You can opt for a higher BTU burner in one of these pots, choose to include fire media, or use an electronic ignition for additional cost.
A concrete fire bowl may just be the perfect addition to your backyard landscape or commercial property. Their versatility in size, shape, color, and design mean they can be easily adapted to whatever you have in mind. Purchase one of our fire bowl complete kits or DIY and buy separately. Just be certain you check out our fire pit planning articles to ensure you choose the right dimensions, BTU, and style for your needs.